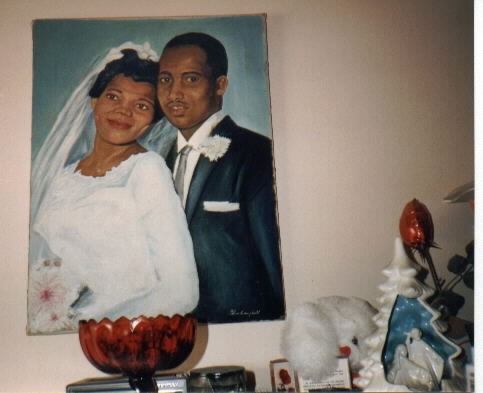 Grandma (for waiting on my arrival and who now abides in the heavenlies) and Grandad, pictured above
Aunties and Uncles
Cousins
All my family (past and present)
Carol H.
Gary C. (for your love and support)
Kimberly F. (my fairy Godmother...and family, especially Sara)
Dr. Shapiro
Dr. Herzenberg
Dr. Rossiter (for her hopeful attitude throughout)
Dr. Wandishin (for her willingness)
Dr. Aronson and staff (for their initial tenderness and care)
Natalie G. (for all you do without even being asked)
the NICU nurses (who made me feel like a "queen", you know who you are)
Christie F. (you keep singing those songs:)
PACT (Hi Christian, Hi Hope, Hi Sharon, Hi "everyone")
BEST BUY - for donating my 'pink' computer - YOU ROCK!
Sister Farhat (who became my Mom's other big sis during her pregnancy)
Sister Donna
Baby Jonathan (who inspired my Mom even more to create this site)
My buddy Catie V
Elizabeth C. (my P.T. who never quits)
Leroy M.
Mia W. (you're a gem)
Enyo (for your kindness)
Ann A. (sisters 4 life)
Dionne S. (sisters 4 life)
The Osteogenesis Imperfecta Foundation (OIF)
Colonial Baptist Church
Spirit of Faith
Empowerment Temple
Kennedy Krieger Institute
John Hopkins Hospital
The WORD Network
Trinity Broadcast Network
The Littlest Heroes Project (Fee - U R incredible)
ALL who lifted/lift me up in prayer, near and far


...and certainly without a doubt my Father in heaven who has been with me from the very start. I thank you for allowing my Mom to have me in her life. I think she would of been very, very sad without me.

Yes Lord, I would of been. We thank you and PRAISE your Holy Name daily. Hannah has added such joy and depth to our lives. It is through her (and those big eyes) that we see Christ and your LOVE. We know that you have tomorrow in your hands and shall not be anxious. TO GOD BE ALL THE GLORY!!!